Infiniti Homes - Overview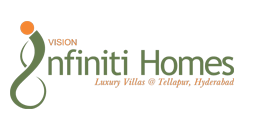 Project Name
: Infiniti Homes.
Location
: Tellapur, Hyderabad.
Development Size
: 23 acres
Number of Units
: 107 Villas
Sequestered in a prime area with 23 acres of magical seclusion, Infiniti Homes is your ultimate destination in luxury living. Located at Tellapur, Hyderabad, Infiniti Homes is just a 5 minute drive from Wipro Junction, Gacchibowli. A community of 107 stylish luxury villas, Infiniti Homes is nestled within a plush community, surrounded by emerald green fairways and offers some of the finest amenities. with add on comforts like pools, Jacuzzis and gardens.
Each Villa is conceived to exist in perfect harmony within natural surroundings. With an American- Inspired layout creating a seamless marriage between indoor and outdoor living environments, all the while maintaining complete privacy through dramatic and classy landscaping. You can enjoy beautiful vistas of the surrounding nature all day long, with plenty of space for large family gatherings or to find your own quite corner. The exquisitely styled interiors uses pure Italian marble flooring and highest quality Balarshah Teak wood that are totally unmatched by any other.
UNIQUE FEATURES
The spacious layout at Infiniti Homes maintains a premium feel, which allows pure relaxation in the comfort of your personal Villa. A private entrance leads up to your personal pad with uninterrupted views of the lush surroundings of nature.
Infiniti Homes features spacious living, drawing, dining areas and sizeable western kitchens which blend with the large outdoor area of your home. The master and other bedrooms lead you to a private terrace where you can enjoy breakfast or relax watching serene surroundings. Your own personal theatre packs a punch with rich feel of royalty and comfort. A separate entrance to the servant quarters with attached bath keeps you away from unwanted disturbances.